A handful of state financial aid programs have early-March FAFSA filing deadlines, including some popular ones like California's Cal Grant and West Virginia's PROMISE scholarship.
Still other states (like Indiana and Texas) have mid-March deadlines that are now being pushed back to April due to the Data Retrieval Tool suspension.
Now that we have high school FAFSA filing data up to March 3rd from the Office of Federal Student Aid, we can see how filing spikes in the week(s) leading up to the deadline.
In California, about 201,000 high school seniors filed before the March 2nd deadline last year. But this year, that number is up about 10% and just shy of 224,000: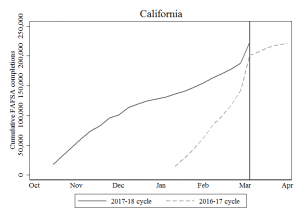 We see a similar spike in West Virginia, where FAFSA completions jump in the week or two prior to the deadline. Last year, about 8,300 high school seniors applied by the deadline and this year that number rose to almost 9,500 (a 13% jump).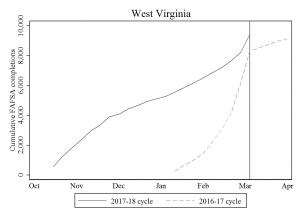 Indiana's original deadline was March 15th, and we can anticipate a similar jump prior to the deadline. Last year, they had about 27,000 completions going into March and this spiked up to 37,500 after the deadline, which is about a 40% spike in volume over the course of two weeks. But with the DRT suspension, there's a good chance this jump is stunted, we will see tomorrow. And kudos to Indiana for extending the deadline to April 15!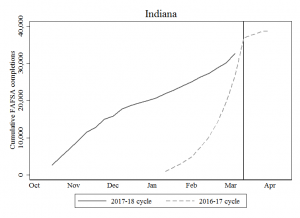 I am not quite sure how to make sense of Texas (said every non-Texan ever). But right from the start of the new filing cycle, Texas high school seniors completed a large number of FAFSAs during the fall. Even though their state's deadline is March 15, more students filed by February this year than the total number of filers by April of last year. Way to go, Texas! Maybe Texas is just different, but it makes me think deadlines may not always be associated with spikes. I'm sure there's a lot of nuance I'm missing here, but this one really intrigues me compared to the prior few states.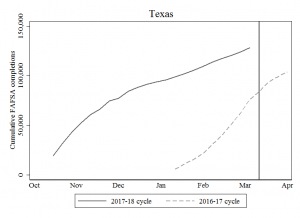 We'll continue to monitor the post-DRT trend, where we will likely shift away from total completions and focus on the percent of submissions that were completed. I can imagine there were spikes in submissions, but flat lines for completions in the week after March 3rd (when the DRT went down).