Each Friday, the US Department of Education publishes FAFSA filing data for all high schools in the country. We have been using this data to examine trends in filing, both for prior cycles and the the current (2017-18) cycle.
Last Friday, we presented at the AEFP conference or working paper (here) on filing rates and we thought it would be fun to throw in a slide on the new data that was released earlier that morning. We wanted to do that because it was the first look at filing since the IRS and Department of Education suspended the Data Retrieval Tool (DRT) on March 3rd. This tool made it easier for filers to import their tax records, which in turn should help students complete the form and reduce the need for verification.
In that presentation we shared the following slide, saying the dip corresponded with the DRT suspension.
In our discussion and in the following conversations, we pointed out that some states have March deadlines that could be behind the spike and drop we see here. Attendees at the session also noted that the drop could simply be a result of secular trends, rather than the tool being unavailable. This is what we loved so much about the conference — we could puzzle together on an ongoing policy issue and we could discuss appropriate research designs for disentangling secular trends from the "treatment" effect.
I am still in conference mode, so I was eager to follow up on this when I returned home. Here is a quick look at those secular trends comparing states with early March deadlines (CA, ID, IN, MD, MI, OR, WV) to all other states.
This chart is a little hard to read, but the left shows last year's cycle and the right is this year's. We're looking at the week-to-week percentage point change in FAFSA completions among high school seniors.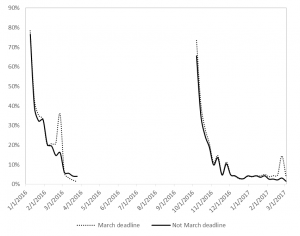 The dotted line represents states with early March filing dates, and sure enough we see the early-March spike in both cycles. And, as expected, we don't see that spike in other states.
But notice one thing: the weekly trends show much steeper changes than this year's cycle. This is because last year was much more condensed and this year is spread out over three additional months.
The March spike last year went from 21% to 36%, a 14 percentage point bump in a single week! This year, the bump is much smaller, but it is still large relative to other weeks: a 9 ppt bump.
I wanted to show these big picture trends just to get the complete cycle in our minds. But this is hard to see in the above chart, so let's zoom in.
We see the steep weekly declines in the 2016-17 cycle, where "early March" states basically flat-line by the end of the month. And the other states slow down to about 5 percent growth rates through April.
In the 2017-18 cycle, we still see that spike and we can anticipate the "early March" states will flat-line in the coming weeks. But it looks like the weekly trend holds pretty steady from week to week, hovering around 4 percent until February when it dips down to 2 percent.
[Side note: Look at the holiday season dip here, where filing drops in December. It does the same around Thanksgiving in the other chart above.]
The DRT suspension occurred on March 3rd, which likely had little to no effect on "early March" states so long as their deadlines were on March 1 or 2. But in the other states, we see March 10 (the week following the DRT suspension) reach its lowest point all cycle. The growth rate drops to 1.6% and we will monitor whether it rebounds in the coming weeks.
Considering that 1.78 million high school filers completed by June 30 last year, we have a long way to go to beat that level. We are currently at 1.62 million completions. That's 160,000 a student gap that needs to be filled in 15 weeks. We can get there with a weekly growth rate less than 1 percent. We are already far above where we were last year in terms of completions, and I doubt weekly growth rates will slow below 1 percent. But this needs monitoring to be sure we're on pace.
Whether the dip we saw this week was just part of the secular trend or whether it was because of the DRT suspension, we cannot say for sure with this descriptive analysis. We just wanted to share the data and bring this into the conversation. We don't want to add noise or confusion to that conversation and we want to point out that it is hard to disentangle secular trends from the "treatment" effect. And that's precisely why AEFP is a good conference to visit in order to share preliminary findings and to work through questions together.
We'll keep monitoring this and piecing together as best of a picture as we can. Feedback welcome, as always!
Data:
Early March states
Not early March states
Completed
Submitted
Completed
Submitted
2016-17 cycle
January 8, 2016
30,515
36,605
104,872
125,304
January 15, 2016
54,412
64,185
185,193
216,134
January 22, 2016
77,754
91,606
257,083
299,213
January 29, 2016
104,997
123,217
339,954
392,649
February 5, 2016
139,918
163,356
451,996
518,168
February 12, 2016
167,847
194,819
544,011
618,187
February 19, 2016
202,543
234,077
650,209
736,784
February 26, 2016
244,641
280,501
745,762
837,536
March 4, 2016
332,235
383,092
865,845
967,066
March 11, 2016
351,423
402,080
918,114
1,020,316
March 18, 2016
362,821
412,751
969,787
1,074,355
March 25, 2016
370,270
416,572
1,010,295
1,110,564
April 1, 2016
374,809
420,089
1,051,186
1,152,268
2017-18 cycle
October 7, 2016
36,760
41,943
159,976
180,256
October 14, 2016
63,726
71,756
264,881
293,808
October 21, 2016
89,957
101,377
359,001
396,507
October 28, 2016
115,443
129,415
448,117
492,713
November 4, 2016
139,479
155,856
533,215
584,646
November 11, 2016
154,773
172,794
586,070
641,763
November 18, 2016
177,266
197,186
665,354
726,252
November 25, 2016
186,013
206,853
696,765
759,629
December 2, 2016
207,066
229,919
769,497
837,037
December 9, 2016
216,850
240,117
806,861
875,767
December 16, 2016
225,690
249,402
841,780
912,144
December 23, 2016
231,912
255,948
867,412
939,113
December 30, 2016
238,191
262,747
892,013
965,228
January 6, 2017
247,790
273,030
930,049
1,006,055
January 13, 2017
256,997
282,662
966,455
1,045,077
January 20, 2017
267,939
294,030
1,008,471
1,090,663
January 27, 2017
279,177
305,858
1,044,504
1,127,559
February 3, 2017
292,968
320,433
1,089,586
1,175,960
February 10, 2017
303,994
332,054
1,118,125
1,204,642
February 17, 2017
317,077
346,011
1,147,851
1,235,870
February 24, 2017
331,670
361,602
1,173,191
1,262,285
March 3, 2017
379,359
419,348
1,210,582
1,302,398
March 10, 2017
392,864
430,926
1,229,581
1,320,855