Lab Contact Information
Lab Email: edneurolab@education.wisc.edu
Lab Phone Number: (608) 263-4011
Lab Director                                         Lab Manager
Dr. Edward Hubbard                                                                Ashley Ezpeleta
Educational Sciences, Suite 1075                                       Waisman Center, Room 271
Personal Email: emhubbard@wisc.edu                             Personal Email: ezpeleta@wisc.edu
Where Are We Located?

Educational Sciences Building
1025 W. Johnson Street
Madison, WI 53706
Office: (608) 265-2607
Lab: (608) 262-4475
Parking: Visitors should park in the Grainger Hall Garage (lot 7). The parking entrance can be found on North Brooks Street and is indicated by the letter P on the map. Participants will receive vouchers to present to parking attendant to cover parking payments. Metered parking is available on North Brooks Street and North Mills Street and is free on weekdays after 6 p.m. and on weekends.
Waisman Center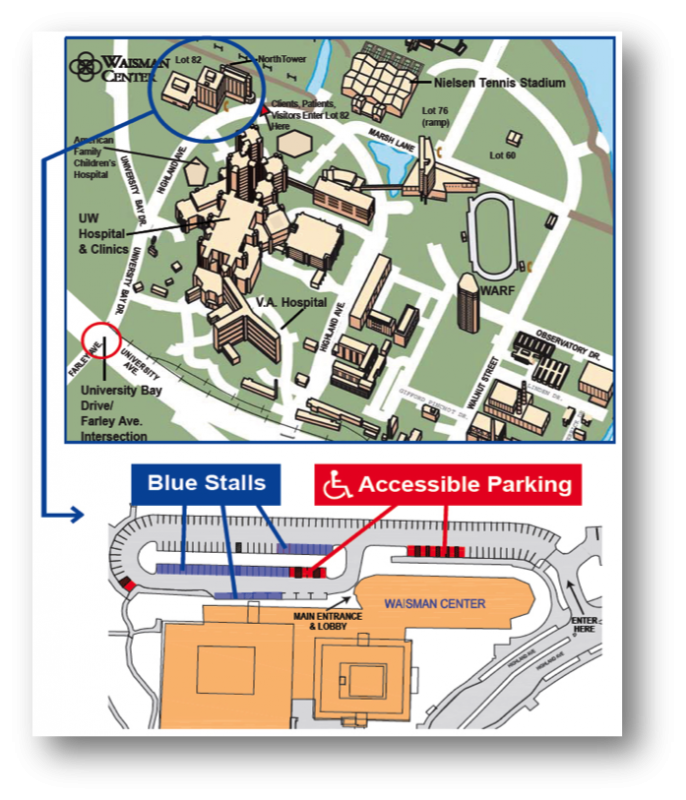 1500 Highland Avenue
Madison, WI 53705
Office: (608) 890-3625

Parking: Visitors should enter the North Parking Lot (lot 82) and park in stalls outlined in blue labeled "Waisman Client & Visitor Parking Only." Upon parking, make your way to the front lobby of the building (the north tower), where a research assistant will be waiting with a parking permit for you to hang on your rear view mirror. After 4:30 p.m. or on the weekends, a parking permit is not required unless you are parking in a handicapped-parking stall.